Authorized Training Partner: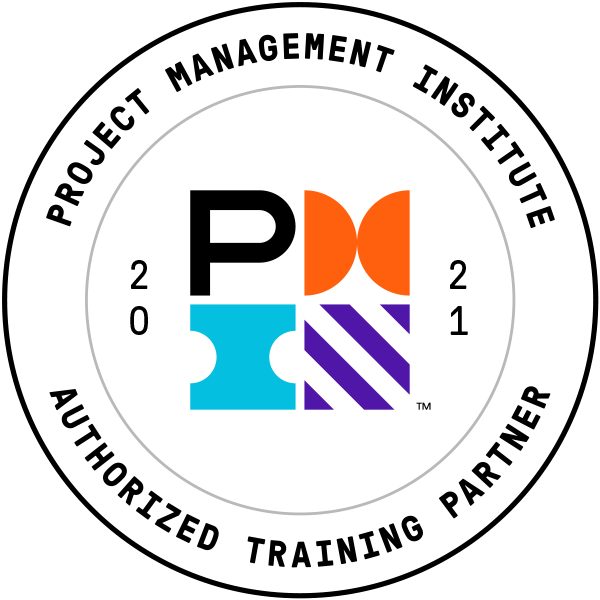 The PMP® certification, awarded by Project Management Institute (PMI)®, is now the ONLY project management credential of choice for numerous industries and companies!  

The Project Manager is the heart of a project. A Project Manager shoulders important duties, such as resources allocation, inter-departmental communication and integration, supervision and review. The project manager's capability undoubtedly determines a corporation's competitiveness. Nowadays, there are over 1,000,800 PMP® holders in charged of various projects in more than 200 countries. Accredited by Project Management Institute (PMI)®, PMP® is, for sure, the project management credential with the greatest international recognition among all.
®

This programme is run by Informatics Thames College (Reg. no. 518670).
It is a matter of discretion for individual employers to recognize any qualification to which this course may lead.
PMI, PMP, Project Management Professional (PMP), PMI-ACP, PMI Agile Certified Practitioner (ACP), PMBOK and the PMI Registered Education Provider logo are registered marks of the Project Management Institute, Inc.
CEF Course Code : 21C047341
CEF Course Name : Project Management Professional (PMP(R)) Preparation Course
*The course has been included in the list of reimbursable courses under the Continuing Education Fund
* The Office of the Continuing Education Fund does not have record of registration of this course under the Qualifications Framework

Unique Training Model – SUCCEEDTM 
S — Situation Analysis: tackle problems in "What-if" scenarios
U — Updates of Skill: set, Decision Making, Context diagram etc.
C — Cases Sharing:  7 cases from MaxWideman/ HaroldKerzners
C — Checklist Reviews: All sort of PM templates
E — Exercises in Class
E — Exam Drills: 500+ sample questions
D — Delivery Approaches
Passing Rate: above 95% pass in one time
39 hours instructor-led workshop + 3 hours Exam Drill + 3 hours mock exam and review
Trained more than 4,500 Project Management Specialists
Case studies drawn from examples of Fortune 500 companies, and from cases offered by top US business schools
More than 3,000 MC questions for exam practice
For a four-year Degree holder:
1) Project Management Experience:
Minimum 36 months of leading projects;
2) Project Management Education:
35 hours of project management education/training or CAPM® Certication
For a high school diploma or an associate's degree (or global equivalent) Holder:
1) Project Management Experience:
Minimum 60 months leading projects;
2) Project Management Edcuation:
35 hours of project management education/training or CAPM® Certication
Introduction, Framework:
PM Process and Organization Types
Integration Management
Scope Management
Schedule Management
Cost Management
Quality Management
Resource Management
Communication Management
Risk Management
Procurement Management
Stakeholder Management
Mock Exam
==============================================
Domain I: People (42%)
Domain II: Process (50%)
Domain III: Business Environment (8%)
==============================================
Create a High performing Team
• Build a Team
• Define Team Ground Rules
• Negotiate Project Agreements
• Empower Team Members and Stakeholders
• Train Team Members and Stakeholders
• Engage and Support Virtual Teams
• Build Shared Understanding about a Project
• Case study
Start the Project
• Determine Project Methods and Practices
• Plan and Manage Scope
• Plan and Manage Budget and Resources
• Plan and Manage Schedule
• Plan and Manage Quality of Products and Deliverables
• Integrate Project Planning Activities
• Plan and Manage Procurement
• Establish Project Governance Structure
• Plan and Manage Project/Phase Closure
• Case study
Do the Work
• Assess and Manage Risks
• Execute Project to Deliver Business Value
• Manage Communications
• Engage Stakeholders
• Create Project Artifacts
• Manage Project Changes
• Manage Project Issues
• Ensure Knowledge Transfer for Project Continuity
• Case study
Keep the Team on Track
• Lead a Team
• Support Team Performance
• Address and Remove Impediments
• Manage Conflict
• Collaborate with Stakeholders
• Mentor Relevant Stakeholders
• Apply Emotional Intelligence
• Case study
Keep the Business in Mind
• Manage Compliance Requirements
• Evaluate and Deliver Project Benefits and Value
• Evaluate and Address Business Environment Changes
• Support Organizational Change
• Employ Continuous Process Improvement
• Case study
230 minutes Computer-Base Testing (CBT). One additional break for a total of two 10-minute breaks for computer-based test.
180 questions (Questions will be a combination of multiple-choice, multiple responses, matching, hotspot and limited fill-in-the-blank.)
Mr Sam Lee (Trainer)
Academic/ Professional Background

Project Management: PMP®
PMI-Agile Certified Pratitioner: ACP®
Program Management: CPM
Supply Chain Management: CPSM
Working Background

Being appointed to be the Project Management trainer for ROCHE, INTEL, Bank of America, Bank of China Incorporate, The Hongkong and Shanghai Banking Corporation Limited, Lee Kum Kee International Holdings Ltd, Hong Kong Air Cargo Terminal Limited (HACTL) and CHANEL, Bank of Communications, etc.
Leading project management team to develop software system for listed companies over 20 years.
Representing independent service vendor managing projects with multi-national corporations (MNCs)
Extensive leading experience in the Government's and Non-Profit Organization's tenders projects.
==============================================
Mr Simon Hui (Trainer)
Academic/ Professional Background
Project Management: PMP®
PMI Agile Certified Practitioner – PMI-ACP®
Supply Chain Management: CPSM
BEAM Professional – HKGBC
LEED AP – USGBC
CDM-C(UK) – Association of CDM-C
UK Register Architect – RIBA, ARB(UK)
HK Register Architect – HKIA, ARB(UK)
Certified Counter Terrorism Practitioner
University of Newcastle upon tyne, England (BArch)
University of Manchester (MBA) – Existing
University of East London (Dip. Arch)
Working Background
8 years Design and Project management experience in Hong Kong, China, London, Mongolia, Malaysia, Singapore, etc
Recognition
Honarable Treasurer, 2019-2020
Young members committee Chairman, 2017-2019
Guest Speaker for HKIA Public lecture, 2016
Co-writer of HKIA publishing, 2015-2016
Young members committee, 2014-2016
Archive committee, 2014-2016
Arch walk docent, 2016
HK & UK Qualified Architect and also qualified the BEAM – Plus and LEED-AP as well, with total 7 professional qualifications.
Top 5 – E-factor, UEL Business competition, 2010
Publishing
Architectural columnist, UK Chinese time, 2009 – 2011
Architectural columnist, www.newsccn.com 2010 – 2011
Architectural travel guide book, Red publishing, 2007
Arch- touch, Joint publishing, 2013
Arch- touch II, Joint publishing, 2014
Arch- touch III, Joint publishing, 2016
Arch- touch IV, Joint publishing, 2018
《筆生建築》, Joint publishing, 2016
Architectural Columnitst, Hong Kong Economic Journel
《 香港信報 》— 建築思話
Architectural Columnitst, Hong Kong Skypost
《香港晴報 》— 筆講建築