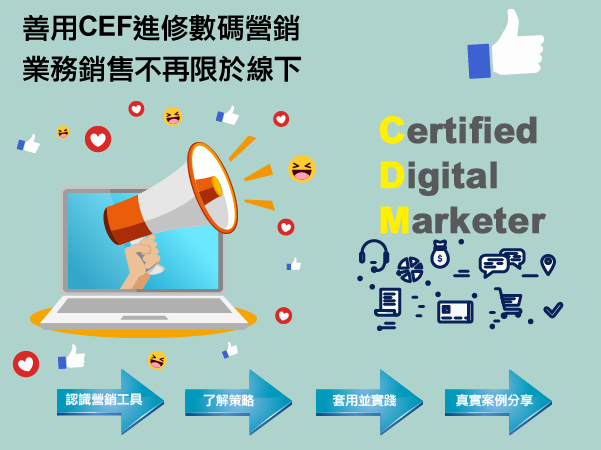 The CDM Program by IIB Council is a 360 degree, Vendor-Agnostic, Hands-On Training and Certification Course specifically tailored for those who are aspiring to apply the latest Digital Marketing and Growth Hacking practices and techniques on both corporate and entrepreneurial levels.
The overall tone of the training helps students make use of both creative, technical, and analytical skills in digital marketing-effectively making them professional Growth Hackers.
IIB subject matter experts have invested thousands of hours researching the latest trends and techniques used in the digital marketing today to give students the sound industry experience
involved in real-life projects.
請即登記查詢!
Generate More Traffic and Leads & Close More Sales
You will be able to close the gap between marketing and sales by understanding the latest principles and techniques in lead management, content marketing, and growth hacking to attract more qualified leads and close the marketing-sales loop once and for all.
Identify the Right Marketing Channels for Their Needs
You'll also be able to choose the right technology that fits your business needs, and bring you the best returns for the least possible effort and money investment.
More Than the Principles
They will get hands-on experience on a plethora of tools and technologies like WordPress, Google Ads, Facebook Advertising, MailChimp, Moz, and so much more!
Prove the ROI of Marketing to Secure Enough Budgets
You will also learn all about data-driven marketing so you can know where to spend, and how much to spend on each channel based on data, not intuition.
Become a Unicorn Marketer
By the end of this course, you will be a multi-talented digital marketer who understands everything in your field from SEO and Content Marketing to Search and Facebook Advertising. Having creative, analytical, and technical skills will make a rare and valuable asset to any employer!
Improve Communication
Diversity in the workplace is great and having a common language and general understanding of digital marketing, web development, and design terms and techniques can improve the communication and unity among their team significantly, so they don't operate in silos.
Fresh Graduates
Who want to position themselves as world-class marketers in a competitive employment market.
Career Climbers
Who are looking to supercharge their career by learning the latest digital marketing technologies and tools so he/she can add incredible value to their company to get that next promotion!
Freelancers
Who would like to make money on the side by learning one of the most in-demand skills in the digital freelancing world today!
Entrepreneurs
Who have an idea for a new business but they don't know how to market it to the right customers. The course is also perfect for small business owners who feel that their growth stagnated and plateaued.
INTRODUCTION TO DIGITAL MARKETING
MARKETING STRATEGY 2.0
CONTENT MARKETING AND LEAD GENERATION
WEB DEVELOPMENT AND DESIGN
WEB ANALYTICS
SEARCH ENGINE MARKETING
SOCIAL MEDIA MARKETING (SMM)
EMAIL MARKETING
VIDEO MARKETING
AFFILIATE AND MOBILE MARKETING
Module 1: Introduction to Digital Marketing
In the first chapter of our digital marketing certification course, you'll learn how digital marketing changed the
way businesses market their products and services, along with the benefits of
implementing digital marketing for their own business.
They'll also know the myriad channels used to promote products and services digitally
and how successful firms use them to generate millions of dollars every year! Finally,
they'll get a sneak peek into Silicon Valley's best held secret: growth hacking – a mindset that will transform the way they do business forever!
Topics Discussed Here Are:
✔ The benefits of using Digital Marketing over Traditional Marketing
✔ Inbound vs. Outbound Marketing
✔ The current landscape for Digital Marketing
✔ Growth Hacking Principles
Module 2: Marketing Strategy 2.0
In this new model of our digital marketing certification course, we would first take a closer look at branding and create user
persona for your business' target segments. After that, we go to examine different digital channels and how they fit different business needs and how students should approach them based on the strategy we'll set together in this chapter.
Finally, we'll also look at how budgeting works with digital marketing and the common metrics digital marketers can use to justify their digital marketing investment.
Topics Discussed Here Are:
✔ Marketing strategy 2.0 and why it's important in today's digital age
✔ Competitors' Analysis
✔ How to Create User Personas to craft your perfect marketing message
✔  How to choose the best social media for your business needs
✔ How to select Marketing objectives for your business and common objectives used today and how to measure them
✔ Branding…Simplified
Module 3: Content Marketing & Lead Mgmt.
Now that we are done with marketing strategy, it's time to use the user personas created in the "marketing strategy" chapter and create buyer journeys that start from awareness to advocacy. Using this map, you will be able to create the perfect content at every stage of this buyer's journey.
Additionally, you will learn what marketing funnels are and how to use them to acquire, manage, and convert more leads and turn them into loyal fans!
Topics Discussed Here Include:
✔  Why do you need Content Marketing?
✔ Steps you need to take before starting Content Marketing
✔ Various Forms of Content Marketing
✔ What is Lead Generation?
✔ How to Nurture and get Quality Leads
✔  Measuring the Performance of Content Marketing
✔ How to develop the Content Calendar for efficient and faster production
Module 4: Web Development & Design
The website is the centre of all digital marketing efforts and it's the glue that holds everything together, from social media to SEO.
In this chapter, you will learn about the process of developing and managing a website that converts visitors into paying customers. You will also learn how to analyse and optimize your website regularly using the latest technologies so you can make constant and continued growth an essential part of your marketing strategy.
Additionally, you will go through the web development process and understand how to manage it properly.
Finally, you will also get to learn the latest UX (user experience) processes that can help you create an engaging experience for your website visitors that is optimized for conversion.
Topics Discussed Here Include:
✔  How the Web / Internet Works?
✔  Hosting Options for your Website
✔ The UX Design Process
✔ 7 Design Principles for Digital Marketers
✔  Hiring the Right Developers and Designers
Here, you will take the next step in website optimization by learning how to implement tracking code on your website which will allow you to collect data on who visits the website and how they are using it.
You will also learn the common terminologies in web analytics and how to use the most important Google Analytics reports to know where your traffic is coming from, the level of engagement visitors have on the website, and much much more!
Finally, you will find out how to use website data to improve and optimize the website as you see your traffic and conversion rates skyrocket!
Topics Discussed Here Include:
✔  What are the Benefits of Google Analytics?
✔  How Google Analytics Works?
✔  Understanding Google Analytics Terminology
✔ How to integrate WordPress and GTM with Google Analytics
✔  Working with Views and Filters
✔  Audience, Acquisition and Behavior Reports
✔  Creating Goals and working with Conversion Reports
Module 6: Search Engine Marketing
In the first section of the chapter, students will learn how to get more organic traffic from search engines to their website by understanding the underlying concepts of
SEO.
Topics Discussed Here Include:
✔ Keyword research for SEO
✔ Analyse and optimize textual and not-textual HTML elements.
✔ Practical steps of dealing with content duplication
✔ How to Submit a sitemap for your company's website
✔ Steps of the link building process
✔ Measure SEO performance over time.
In the second part of this module, you will get familiar with the Google Ads user interface and will learn how to
create successful campaigns (mainly, text search ads) that would increase both your
traffic and conversion rates.
Topics Discussed Here Include:
✔ Types of ads you can do with Google Ads
✔ How the Google AdWords ranking system works
✔ Google's Quality Score
✔ How to do keyword research for Search Ads
✔ Running Campaigns with Google Ads
✔ How to write great search ads that convert
✔ How to evaluate and optimize your campaigns
Module 7: Social Media Marketing
In this chapter, you will learn and evaluate which social media channels are best for your business and how to use each one of them to create buzz and social interest around your brand as well as your products and services using the latest tactics and best-practices from ultra-successful companies around the world!
We'll also dig deep into Facebook's people-based advertising as they'll learn how to use it to create incredibly targeted campaigns that supercharge your business growth.
Finally, they will know how to optimize and use social media channels like Instagram,
Twitter, and LinkedIn to increase their reach and grow their audience!
Topics Discussed Here Include:
✔ Examine the effects of the new Facebook Algorithm
✔ Tactics to grow your Facebook Page organically
✔  The Optimal campaign structure for Facebook Advertising
✔ How People-based targeting works on Facebook
✔ Explore the different types of Facebook objectives
✔ How to run A/B Tests on Facebook
✔ Examine Facebook Ad Insights
✔  How to reach influencers on Instagram, Twitter and other social channels
✔  Analyse, Evaluate and Optimize your performance on social media channels
Module 8: Video Marketing
Here, you will find out why video is so important, and how to use it to create
content that is going to increase your brand's reach and engage their audience. They will also get to know the YouTube user interface in depth and how to grow your viewership as well as the number of subscribers they have on their channel.
Additionally, they'll learn the most important metrics to look for when analyzing the
performance and the subsequent optimization of their content. Finally, they'll learn
how create video ads for YouTube.
Topics Discussed Here Include:
✔ Develop a YouTube marketing strategy for your business
✔ Explore the different types of videos you can do for your business
✔  Examine how to build and grow your YouTube Audience
✔ Develop an understanding of the SEO factors that lead to higher ranking on YouTube
✔ Compare and contrast the tactics that can be used to monetize your YouTube Channel
Module 9: Email Marketing
Email is not dead! In fact, it is still one of the highest converting marketing channels!
In this chapter, students will learn how to choose your email marketing software and learn how to create and grow their email list.
They'll also learn how to segment that list and how to customize their message for each of these segments.
Finally, they'll learn how to use MailChimp to create stunningly beautiful responsive emails with ease to perfect their message to leads!
Topics Discussed Here Include:
✔ Explore the many benefits of email marketing
✔ Compare and contrast the most popular platforms for conducting email marketing
✔  Examine the steps necessary to set up your email campaign using MailChimp
✔ Analyse the main elements of emails and how to optimize each
✔ Measure and optimize your campaigns with MailChimp
✔ Explore the tactics you can use for growing an email list
Module 10: Affiliate & Mobile Marketing
In the first section of the final chapter, students will get the chance to reach your customers on the go by optimizing their website and emails for mobile users.
They'll also learn how to create SMS campaigns using standard tools. In addition to that, they will learn how Local SEO plays an important part in Mobile Marketing Next, students will get know more about proximity marketing and how it works using beacon technology. Finally, they will learn how (and whether) to use mobile apps to engage more of their customers.
In the second section of the final chapter of CDM, students will understand what affiliate marketing is and the underlying concepts behind it.
We'll also take them step-by-step into the main elements of a successful affiliate program and how they can create one for their business to reach more of their audience.
Finally, they'll learn how to manage affiliates in a program, dealing with recruitment and policing through ensuring effective communication and engagement
Topics Discussed Here Include:
✔ How to assess your website's mobile performance through user testing
✔ How to analyse and improve load times for your website on mobile
✔  The main concepts behind mobile-first design
✔ The importance of Local SEO for mobile marketing
✔ The reasons behind building an app and how to build it
✔ The different approaches you can take when monetizing your app